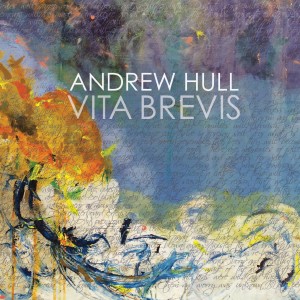 Vita Brevis – Life is Short. A fitting title for an album that apparently covers the full breadth of human experience, (or at least as much as can be crammed onto a small plastic disc).
Unlike previous work with The Lonely Horse Band, this project see's one of Australia's finest contemporary musical poets presenting himself bare and unadorned. A small number of tracks featuring some tasteful accompaniment from Bourke guitarist Andy Garland, Narrandera violinist Lizzie Walsh, and also the co-producer, Vic McEwan – but in essence, this album is about hearing the words. "I actually went into this audio project with a visual image." says Andrew "I wanted us to imagine a small dark folk type club, with a small low lit stage, and we are watching a solo performer – just vocal and guitar, and then occasionally becoming aware that there was a small band accompanying in the background. Once we had pictured the visual image, it was easier to make decisions about how it would sound"
"For every dawn a dusk must come and for every rise, a fall
For every night, another sun and for every heart, a call
And time will take its weary toll upon the gifts we give
But the rebirth of the season is the reason that we live"
– My Mothers Garden
Andrew's work has been genre breaking for nearly a decade, combining his love for music with his commitment to a deep and authentic rhyming verse tradition, what is presented is as unique as it is beautiful – thoughtful lines and phrases link together across musical lines, ideas and philosophies soar on melodies and delicate song structures, and a constant baritone constantly guides the listener through complex ideas, simplified to abstraction.
"…they wore the worn expression of men who've lived and know
That the grass was greener elsewhere, – but they didn't care to mow"
-No Matter Where You Go
Recorded between March and April 2014 at The CAD Factory near Narrandera, NSW – the final product is actually the culmination of 4 years work. "I initially sat down to record this in 2010, and still have those first demo's" says Andrew "…but then, like with several subsequent attempts, I couldn't get it to sound the way I wanted, either sonically or lyrically. However over that time I have not only refined the songs, but also shaped a more clear idea of 'what it is that I do' – and that is no small factor in being able to finally produce the work that has been gestating for so long"
Listening to Vita Brevis is like having a long conversation with yourself and your thoughts – the listener is instantly familiar with the themes being explored as each new track reveals another layer of description of the human experience. "This project was initially called 'The Human Race', and the title 'Vita Brevis' is not a huge deviation from that idea. The last major project I did (Western Stream) was very much about 'place', but this project is more about the experience of life, moreover, life in Australia, with bushfire, drought, flood and the Australian landscape all providing the backdrop for the stories told."
"…if at times that passion means you swim against the flow
And you feel like you're alone with things no-one else can know
Then you come down from your mountain, or rise up from your plain
To the place that sits between where the plateau calls the rain
And in Dorrigo – you'll fit in like a hand fits with a glove
Where they love the things they do, and they do the things they love"
– Dorrigo
In the end, putting the project together was a relatively simple affair, the songs had become so well bedded down, and the arrangements so finely tuned that the tracking was a matter of a couple of days, with engineering just a few more in the masterful hands of Vic McEwan. The final product was enhanced significantly by the addition of some inspired artwork by Andrew Drane of bushmedia.com, and developed around the beautiful imagery captured in a painting by Sarah Goulden. the job of mastering was once again undertaken by Michael Lynch at Shoehorse Sound, and the project was complete.
For those who enjoy listening to their words, not just wallpapering their room, this album provides it in spades. A fine addition to any collection, and a unique piece of art to add to the individual and collaborative canon of Andrew Hull.